Venue & Hospitality
Hotel Services & Amenities
Audio/Visual Equipment Rental.
Business Center.
Business Phone Service.
Complimentary Printing Service.
Express Mail.
Fax.
Meeting Rooms.
Office Rental.
Photo Copying Service.
Secretarial Service.
Telex.
Typewriter.
Video Conference.
Video Messaging.
Video Phone.
ATM.
Baggage Storage.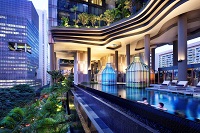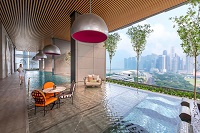 About City
Singapore is famous for being a global financial center, being among the most densely populated places in the world, having a world-class city airport with a waterfall, and a Botanic Garden that is a World Heritage Site.
Singapore is known as a tourist destination and for its hot and humid climate, being very clean, and growing in area due to reclaimed land.
The city-state is a shopper's paradise, besides the usual luxury brands sold in luxurious malls with luxury air conditioning; you can buy almost everything except chewing gum. Singapore is also known as "Instant Asia" because it offers visitors a quick glimpse of the Asian cultures that immigrants have brought from all parts of the continent.
The island city-state on the southern tip of the Malay Peninsula has seen many rulers in its history. It has been an outpost of the ancient Sumatran Srivijaya Empire; it was part of the Sultanate of Johore in the 15th and 16th centuries, and it was burned down by Portuguese forces in 1617. At the beginning of the 19th century, Singapore became a trade post and settlement of the British East India Company and a British crown colony some years later.
Singapore is today the most densely populated independent country in the world. Its strategic location at the Strait of Malacca and the South China Sea, combined with a mostly corruption-free government, a skilled workforce, pro-foreign investment and export-oriented, led to a thriving free-market economy that attracts international investment funds on a large scale despite its relatively high-cost operating environment.